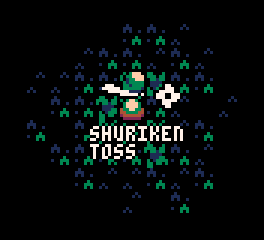 Shuriken Toss v1.2
The garden has become overrun by bamboo plants! Use your magical shuriken to destroy as many as you can in 30 seconds.

NOTE: Gamepad support not currently working but will be added very soon
Controls:
Z to use power-up
D-Pad / Arrow Keys to move
Enter / Select to pause
Install instructions
You can download the game file below if you own a copy of PICO-8 and use the load command to run the game and view the source code.
Comments
Log in with your itch.io account to leave a comment.
That's fine! It's meant to be a .png file! I know, that's an image file but all of the information for the game is actually stored in the .png file.
You will need a copy of Pico8 to play the game and download the .png file into your carts folder. You can then use the 'load' command followed by the filename of the game file to load the game and then use 'run' to run the game.
Hope this helps somewhat but feel free to contact me if you're still unsure about something!
Really cool game ;) i love your attention to details .