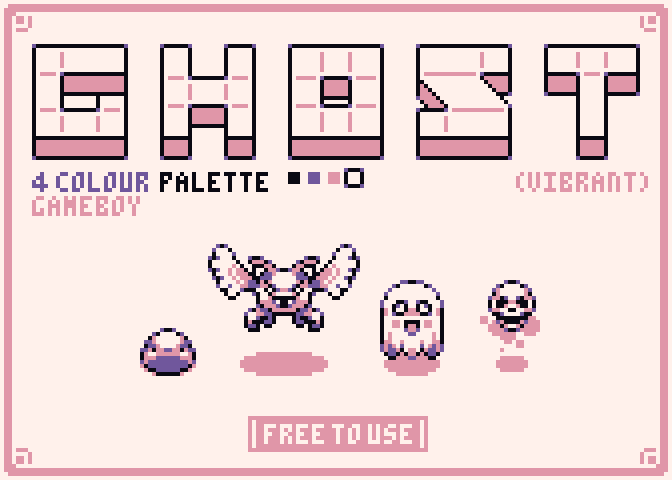 Ghost - 4 Colour Gameboy Palette
A downloadable colour palette
What is Ghost?
Ghost is a colour palette designed for use in Pixel-art and Game-Boy style video games.
Ghost (vibrant)
Ghost (vibrant) is the more vivid and saturated version of the palette, perfect for use in lower resolution art or games.
Ghost (mellow)
Ghost (mellow) is the duller and less saturated/contrasting version of the palette making it better suited for something more serious or realistic.
---
What's Included in the pack?
"Ghost Colour Palettes.7z" consists of the 'Ghost (mellow)' and 'Ghost (vibrant)' colour palettes as .gpl files (for use in GIMP and Aseprite) as well as 4x1 px .png files.
---
Who can use it?
Anyone is allowed to use and modify this palette for personal or commercial projects.
---
Install instructions
Just download and extract the files from the .zip and read the "READ ME.txt" file in the folder for further instructions.
Download
Download
Ghost Colour Palettes.7z
931 bytes